In Memory
Pam Green (Goree)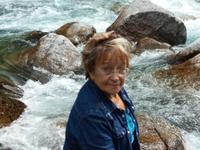 Obituary for Pamela (Pam) Elaine Goree
Pamela (Pam) Elaine Goree, 66, of Boswell, OK passed away on Friday, September 4, 2020 in Oklahoma City, OK. Pam was born on May 21, 1954 in Pampa, TX to Alfred Nelson Green Jr. and Mavis Ellen (Whisenhunt) Green. She started cooking at the age of 14 out in Texas at a restaurant. She continued to cook at places and even owned her own restaurant. Pamela loved drag racing with her husband and taking care of her family and friends.
Pam is survived by her loving husband Larry Goree of the home, parents Al Green and wife Mavis of Amarillo, TX, daughter Brandy Friesenborg and husband Bill of Golden City, MO, three sons DJ Loven of Overland Park, KS, Nick Loven of Holdenville, OK, and Larry Dwayne Goree and wife Heather of Antlers, OK, one sister Gail Lowe of Amarillo, TX, three brothers Buzzy Green and wife Sue of Gilmore, TX, Brad Green and wife Valerie of Seabeck, WA, and Carey Green and Mindi of Rapid City, SD. She has five grandchildren Brock Friesenborg, Kayla Loven, Saphire Riley, Brooke Friesenborg, and Aiden Loven, and one great grandchild Riverlynn Duncan.
Memorial services will be held at 10:30 AM Saturday, September 19, 2020 at Victory Life Church in Boswell, Oklahoma. In lieu of flowers the family requests that balloons be sent for a balloon release after the service. Condolences may be sent to the family at www.brownsfuneralservice.com.
Arrangements are under the direction of Brown's Durant Funeral and Cremation Service.
https://www.brownsfuneralservice.com/obituaries/Pamela-Pam-Goree/#!/Obituary