In Memory
Larry Jones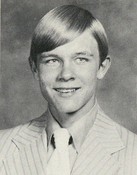 Larry Frank Jones
Posted: Wednesday, September 02, 2009
EAST TAWAKONI - Larry Frank Jones, 55, died Monday, Aug. 31, 2009.
Services will be at 2 p.m. Friday in Mary Ellen and Harvester Church of Christ in Pampa. Arrangements are by Quinlan Funeral Home of Quinlan.
Larry Frank Jones was born Aug. 28, 1954, in Pampa and resided in East Tawakoni. Larry fought a valiant battle with cancer and went home to be with his heavenly Father on Monday, Aug. 31, 2009.
He was preceded in death by his precious sisters, Kimberly Jones and Kristy Baston; and his grandparents, Ray and Flora Mae Jones and Otto and Mildred Patton.
Survivors include his parents, Bonnie Ottolene and Ray Frank Jones Jr. of Lake Tawakoni; three sisters, Sandy Chase of Rowlett, Pam Groves of Hondo and Sherry Conway and husband Dale of Georgetown; a daughter, Amanda Wamsganz of St. Louis; two grandsons, Eric and Riley Wamsganz; five nephews, Shane Olsen, Matthew Wilkie, Zack Guthrie, Cody Groves and Tyler Chase; six nieces, Jennifer Stiegler, Amy Minze, Miranda Michener, Shera Conaway, Kristi Chase and Meagan Chase; and 11 great-nieces and -nephews, Mattie, Rylie, Matilda, Savanah, Shyanna, Tripp, Rody, Garrett, Russell, Ben and Matt.
The family suggests memorials be to Hospice of East Texas, 4111 University Blvd., Tyler, TX 75701.
Visitation with the family will be Thursday and Friday at 2732 Beech St. in Pampa.
Amarillo Globe-News, Sept. 2, 2009