In Memory
John Roth VIEW PROFILE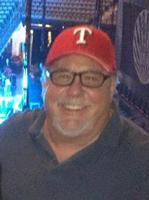 John Stephen Roth, 65, died Tuesday morning, November 27, 2018, at an Amarillo hospice facility.
Family and friends are invited to a reception in remembrance of Johnny from 6-8 p.m. Saturday, December 1, 2018, at the AmericInn, 1101 N, Hobart in Pampa. At his requests, his ashes will be scattered in the San Francisco Bay area at a later date.
Roth, the son of J.D. and Myra Roth, grew up in Pampa and played for the 1971 district champion Pampa High School football team. Johnny is perhaps best remembered for his game-winning touchdown against the Amarillo High Golden Sandstorm which clinched the district title for the Harvesters.
After graduating from Pampa High School, Johnny worked for a few years in Texas before moving to the California San Francisco Bay area where he spent many years working for a medical device company. He later moved to Farmington, New Mexico, where he assisted his nephew in recovering from an automobile accident. He next moved to Durango, Colorado, where he was food and beverage manager for a major hotel.
In more recent years, Johnny moved back to Pampa to assist his mother after his father's death. In Pampa, he worked for National Oilwell Varco and for the Hampton Inn.
Johnny approached life with gusto. He loved good food, fine wine, rock 'n' roll music and just about any sporting event. We will miss his hearty laugh.
He is preceded in death by his parents and his brother Jay Roth. He is survived by his brother and sister in law, Joe and Beverly Roth of Livingston; his sister in law, Heidi Roth of Farmington; nephews Chris and Taylor Roth of Farmington; Hardy Boydston of Garland, Stephen Roth of Celina and Cody Roth of Frisco; cousins Patsy Vaughn Strawn and Bronnie Vaughn of Lubbock as well as other friends and relatives.
In lieu of traditional remembrances, the family requests donations to the Pampa Education Foundation, P.O. Box 1045, Pampa, Tx 79066-1045; the Hospice Foundation of America, 1707 L Street NW, Suite 220, Washington, D.C. 20036 or the charity of your choice.
Click here to see John's last Profile entry.