In Memory
Mike Reddell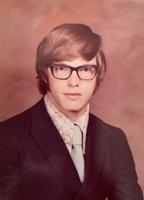 Michael Eugene Reddell, 65 died Monday, September 16, 2019 in Amarillo, Texas.
Memorial services will be conducted by Pastor Lynn Hancock on Saturday, at 2:00 P.M. October 5, 2019 at Briarwood Full Gospel Church, 1800 W. Harvester in Pampa, Texas
Michael was born March 26, 1954 in Hobbs, NM. He graduated from Pampa High School in 1972 and attended Southwestern State College in Weatherford, Oklahoma. Mike worked as a pipefitter most of his life and was a devoted fan of the University of Texas Longhorns.
Survivors include his parents, Jim and Sue Reddell of Pampa, TX; a sister, Beth Bridges (Jimmy) of Lubbock, TX; a brother, Tim Reddell (Jill) of Argyle, TX; son Jacob Jenkins (Emily) of Austin, TX; a cherished granddaughter, Malayah Jenkins of Austin, TX; three nephews, Avery Bridges of Lubbock, TX, Camron Reddell and Carson Reddell of Argyle, TX; a niece, Caitlyn Johnson (Sam) and great niece, Hadley Jay Johnson of Argyle, TX.
In lieu of flowers, memorial gifts may be made to Baylor-Scott White Health at dallasfoundation.bswhealth.com or PAWS, P.O. Box 2095, Pampa, TX 79065.
https://boxwellbrothers.com/obituary/michael-eugene-reddell/?fbclid=IwAR3QGxsJjkXz-SBTm5EBx-TTz5CU9BfREerKLcBWnK7zBzdNjFvhZ4Pg4Ms#.XYKUay2ZO3J