In Memory
Deannia Knight (Smith)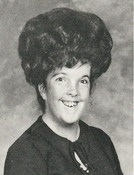 Deannia Louise Smith, born on February 21, 1953 in Gray, Texas, passed away at age 63 on Monday, January 31, 2017. Preceded in death by her parents, Bobby and Jessie Knight and survived by her Catholic and Faith Community
Deannia loved reading romance novels, playing bingo, and eating M&M's.
Deannia Smith will be laid to rest on Saturday, April 8, 2017 at Our Lady of Mount Carmel Catholic Church at 1:30 in the afternoon. Father John David Ramsey, pastor, will celebrate the Catholic Funeral Rite. After the Mass, Deannia's remains will be placed in the church columbarium.
Thank you for the love, care and support she received from Immaculate Conception Church, Mt. Carmel Catholic Church, Coliseum Convalescent & Rehabilitation Center, MCV and Woodbine Rehabilitation and Healthcare Center, Alexandria, VA.