In Memory
Robert Herring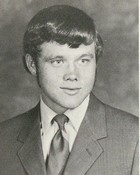 Carmichael Whatley Funeral Directors
Robert G. Herring Sr.
( May 27, 1953 - March 23, 2007 )
SERVICES: 2:00 PM Monday, March 26, 2007, at Carmichael-Whatley Colonial Chapel, with Rev. Albert Maggard, pastor of the First Pentecostal Holiness Church, officiating.BURIAL: Fairview Cemetery under the direction of Carmichael-Whatley Funeral Directors.BIOGRAPHY: Mr. Herring was born May 27, 1953 in Canadian. He had been a lifelong resident of Pampa. He married Kay Snow on January 13, 1972 in Pampa. He worked as the safety manager for Zachary Construction for 15 years, retiring in 2005. He was a former member of the Pampa Fire Department and was a member of the First Pentecostal Holiness Church.SURVIVORS: Wife: Kay Herring of the home. 2 Sons: Robert Herring, Jr., & wife Shelly of Pampa, and Thomas Herring & wife Andrea of Skellytown. Parents: Robert & Judy Herring of Pampa. 2 Sisters: Brenda Morris of Amarillo and Barbara Miller & husband Eddie of Pampa. 1 Grandson: Tristan Herring of Skellytown. Many extended family members and a host of friends.MEMORIALS: National Kidney Foundation-Amarillo District, 6141 W. Amarillo Blvd., Amarillo, Texas 79106, or a favorite charity.