Pampa

High School




Class Of 1972
WE'RE THE BEST THE WEST CAN DO
WE'RE THE CLASS OF '72
IT WAS A GREAT TIME!!
It appears about 100 people attended the reunion and everyone had a good time visiting with old friends and even making some new ones. Plans are in the works for the next one. Please keep us updated so we can have everyone's contact information. Also, please fill out your profile. It is so much fun to see what classmates have been up to.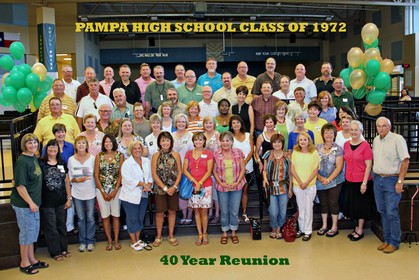 This is the link to all the fun. PHOTOS
Feel free to order from the website except for the following:
Class Photos are $20 for 8x10 or larger
CD of Reunion Photos are $20 and DVDs are $25.
To order contact Della Moyer (dellamoyer@yahoo.com) if you have questions.
---
Also, if you have contact information on any of the "missing" classmates, please send us an email with that info. We have about 250 classmates that were not able to be contacted. If we all work together, maybe next time will be the biggest one yet.
ANNOUNCEMENTS
I really enjoyed getting back together with my classmates. I would like to Thank the Reunion Committee for a Job Well Done.

Sincerely,

Danny McCaskill