Pampa

High School




Class Of 1972
WE'RE THE BEST THE WEST CAN DO
WE'RE THE CLASS OF '72
WE HAD A GREAT TIME IN 2012!!
WANT TO DO IT AGAIN?
We are making plans for a 45th reunion in 2017. Send us your thoughts on the best time of the year to get together. Please updated your contact information and your profile.
It is so much fun to see what classmates have been up to.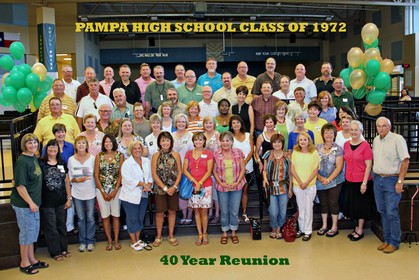 ---
Also, if you have contact information on any of the "missing" classmates, please send us an email with that info. We have about 250 classmates that were not able to be contacted last time. If we all work together, maybe 2017 will be the biggest one yet.